Finally, after two weeks of giving her a brand new interior paint-job and checking and securing all or her mayor systems, East of the Sun was ready for a first sail.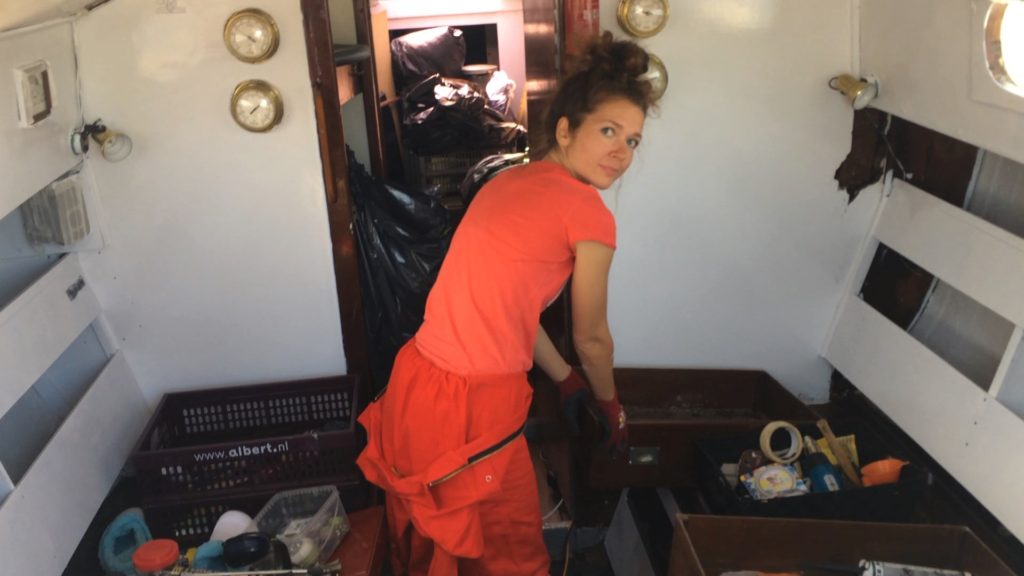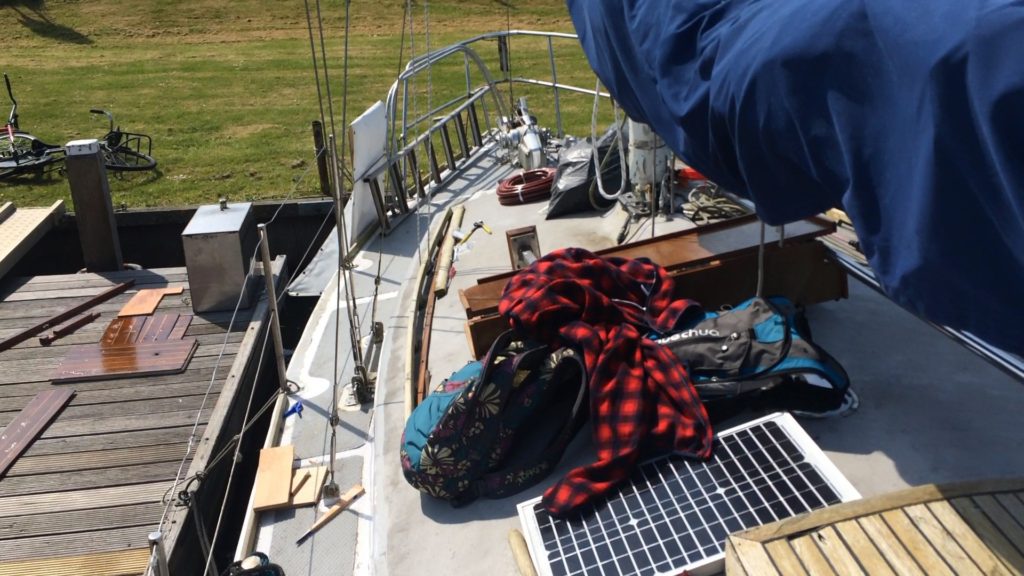 Our goal is to get back to our beloved Amsterdam in the next two weeks, but stormy weather, with the wind blowing exactly in the opposite direction, was racking havoc on our plans. Until finally our trusty "Predict wind" and "windy" apps agreed we would have an interlude (a six hour window of moderate 8-10 knots) of wind that would be blowing more or less in the right direction :).
With just 6 hours notice, we didn't have time to rally our step-up crew so we decided for this first trip of the season, it would be just the two of us short-handing. Bye the way. we don't use any furling systems so when we use the term shorthanded on our boat ,that means we really are shorthanded.
We knew the short 6 hour window wouldn't be enough to get us all the way to Amsterdam, so we picked Lelystad as our destination (about half of the way to Amsterdam from our starting point). All in all we would have to make about 30 NM in 6 hours. With about half of the trip going straight up-wind on the engine, waiting for the wind to turn to our favor at about our half-way-point (right around the moment we would be entering the IJsselmeer) and then we would raise sail and hopefully make the rest of the way before the STORM would hit us :). Yes unfortunately all the weather-predictions also agreed that, right after our little "window" the wind would turn right against us again and would quickly increase to 25-30 knots. So we knew we would have very little room for error. The IJsselmeer is famous for being a place where you truly do not want to be when it hits 30 knots in the wrong direction.
Since it would be our first trip and also in reality, a bit of shake-down cruise for this season we couldn't be completely confident in all of our systems yet, so we decided to make an early start and leave the next morning in stormy (25 knots) conditions up-wind 3 hours early. We would have an extra tough motor to start, but it would give us as much distance as possible before the opening of our favorable wind-window, so we would be sure to reach Lelystad in-time before the storm (or in-time if the storm would decide to hit early). However the day started not so great by immidiately hitting us with engine trouble :(.
Though I had specifically done an extra run of the engine the night before to make sure all was well, on the morning of our departure our V-snare suddenly started whining, like a horse in agony, as soon as I started our trusty Volvo Penta. We said a few swear-words, opened up the engine compartment and went to work. An hour-and-a-half later we had two new trusty V-snares installed (Ow how I love having lots of spares for everything on board :). We were finally able to start our journey in earnest, However, as soon as we cast of it became apparent that our rather large draft of 185cm had slowly dug us into the mud of the shallow, Vollenhove marina where we had been for the last week. So After 20 minutes more of tugging lines, surgical bursts of engine thrust and serving as entertainment (and I dare say perhaps also comic-relief) to some of the locals, we finally wrocht ourselves free of the tiny harbor and made our first strides towards the open water!
First came the Vollenhove Kanaal, where our depth-sounder stubbornly kept reporting 0.2 meter (meaning 20 cm) under our keel with the occasional jump to 0.1 or even 0.0 at times. To use the dutch expression: Met onze billen samengeknepen (with our butcheeks firmly pinched together) we made it past the kanaal, through the Kadoelenlake and the Kadoelkeerlock onto the Swans-deep. A beautiful lake which is ironically named "deep" since the entire place is about as shallow as an ravage dutch bathtub, with only a narrowly dug-out kanaal for the passage of boats with our draft. It was actually full of swans though. really beautiful! 🙂
Next came another interesting little challenge. You see the Swans-Deep would lead us over the Black lake (why is it that all these Dutch waters have names that seem straight our of the story of Snow-white and the seven dwarfs or Game of thrones by the way?) onto a kanaal that splits of unto two canals: The Ramsgeul and the Rams-deep, which are both covered by one bridge that overspans them in one big swoop. However, our mast is 15 meters high and the bridge only opens on one of the canals… And after: consulting the website (not a hint) after google-ing drone videos of the place (not a hint again) and even after reading several journey reports that included this bridge a day earlier (still no clue), I still couldn't be sure on which one of the canals the bride would actually open. To make matters worse our 2 navigational apps (navionics & waterkraarten) both decided not to agree on which of the two kanaals to take :(. So finally, after exhausting all other options:…." Good morning this is Florian Rooz on sailing Vessel East of the Sun for bridge control Ramspolbridge Over….This is Bridge control Rampspolbridge go ahead East of the Sun…..Hello we are nearing the bridge and would like to request an opening…..Yes East of the sun, we see you, as you get closer to the bridge we will open….. Thank you bridge control, However ….I have also one question…….which side of the bridge do we need to pass? The Ramsgeul or the Rams-deep….? 🙂
So…having cleared that little information challenge we started our way around the bend of the Schokkerhaven and onto the first bigger water: The Ketelmeer! With the now (for Dutch standards) comfortable depth of 2.0 meters under our keel, we revved up our engine to cruising mode and chucked along at a respectable 4 knots with about 10 knots of wind still straight in our faces, But as we traversed the 5 or-so miles of the Ketelmeer the wind slowly but surely (as predicted) started turning in our favor. And as we cleared the lake and made our way through the massive Ketelbridge and onto the IJsselmeer, the wind was now exactly where we wanted her to be. Once we cleared the coast by a comfortable mile or so, we could finally raise sail for the final leg of the trip.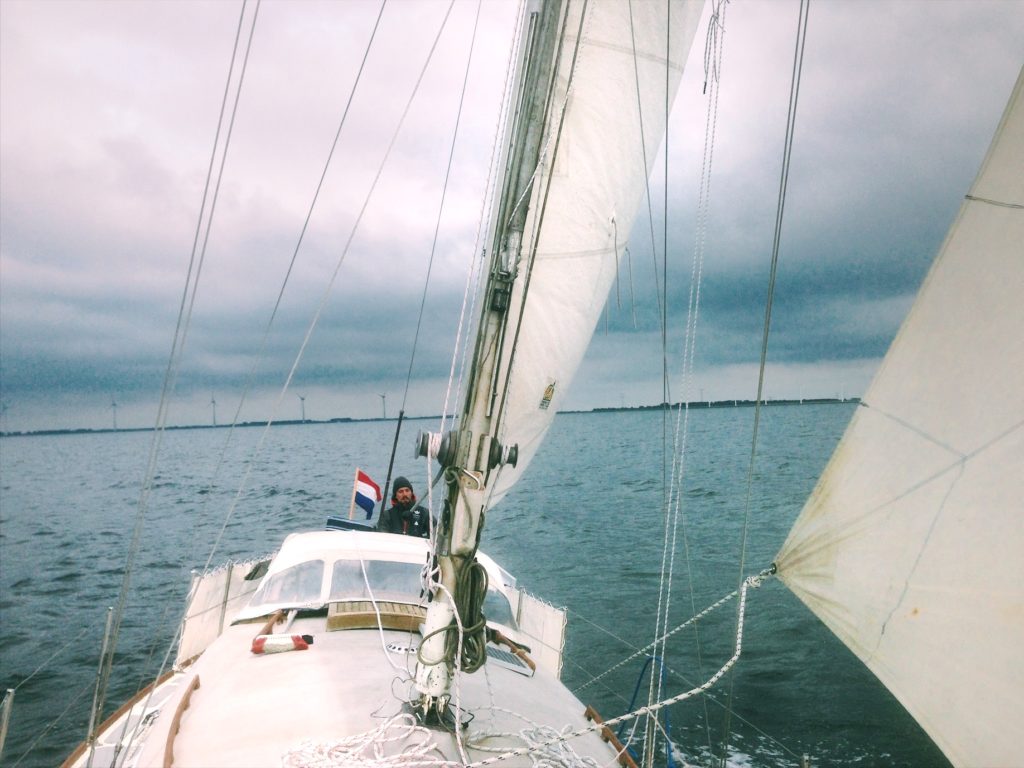 The wind was blowing a steady 7 knots with an occasional gust to 10. Perfect weather to raise our big genua (39 square m) but since this was also kind of a mini shake-down-cruise for us we decided instead to raise full main ,but with our smallest head-sail. This way we could do a bit of a minimal check of our rigging under sail. After all this boat had not been under sail for over two years. Better safe then sorry ;). Fortunately everything worked and performed flawlessly. Having replaced all of the halyards and shoots right when we bought her last year, really was the right move and she sailed like a dream without a single problem or hick-up. Also we confirmed again that the placement of hand-holds both inside and on on the deck, and our cockpit lay-out are very comfortable under sail in bumpy conditions. Who-ever designed her knew what he/she was about and did a great job with that 🙂
In these light winds under sail we recorded a respectable 4.5 knots of speed over ground and about 3 hours later we entered the Houtribhaven as planned. And with about an hour to spare before the major turn and increase in wind was forecast :).
Of-course the one thing you cannot miss when entering Lelystad is the giant VOC ship parked on its shore. The Batavia is famous for it's story of shipwreck, terror and death in the east, as it perished on it's maiden voyage of the coast of Australia. After the wreck was salvaged many hundreds of years later, the Dutch attempted a rebuild that would both use the true old building techniques and build the ship exactly according to the original plans from the VOC archives.
From the weaving of the sails to the cutting of the keel and woodwork. The Batavia is a stunning peace of craftsmanship and we had a fantastic day touring the shipyard. On board you can explore every nuk and cranny, from the captains chamber to the soldiers deck to the cargo hold. You can just imagine how amazingly glorious it must have been to sail something this massive. At the same time you can imagine just how awful it must have been to be anyone but the captain-or a very high ranking passenger on this ship. With it's tiny living spaces, unlit lower decks and having pretty much, anywhere on board that could give you a bit of fresh air and a good overview, being of limits to anybody but the high ranking folks on-board. To spend months in the belly of this beast with only an hour of deck time a day…Phew…that must have been something. On the other hand to sail the 7 seas as deck crew or a high ranking person on board of this epic beauty, that must have been something! 🙂
Here is a little video to give you an impression of our first little trip. I hope you liked this blog (please give it a like or share) and talk to you again soon.
Flo